CAFAS Scholarship Form Online and Guidelines, India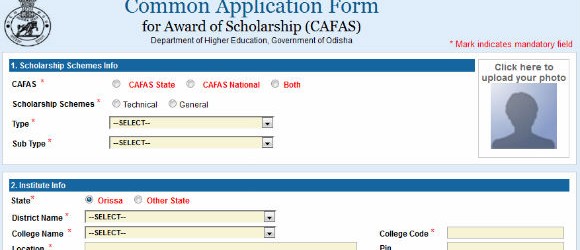 Various scholarships are being awarded by State Government (A) and Government of India (B) to meritorious/meritorious and poor students of Orissa for pursuing higher studies including studies in Technical and Professional education.
From the financial year 2010-11 the State Government have revised the rate and number of scholarships awarded by the State Government. Government have also relaxed the income ceiling of parents, wherever applicable, so as to enable more meritorious and meritorious-cum-poor students to avail the opportunity.
The application procedure has also been simplified and now students can submit their applications for any of these scholarships awarded by both
Government of India and State Government as per their eligibility by using a Common Application Form for award of scholarship.
Further Scholarship Information and Application
What is Common Application Form for Award of Scholarship (CAFAS) Form

CAFAS is an online application form for applying for state and national scholarships in Orissa state of India. This website is maintained by Department of Higher Education, Government of Odisha.
This scholarship application form also available in paper format. You can download CAFAS form here.
How to Fill CAFAS Scholarship Form
Many students make this mistake of filling the application form wrongly. It is very important to fill the online or printed application form correctly.
Here you can download latest application form guidelines.
I would strongly suggest you to make sure that you have read the application guidelines carefully before started filling the application.
You can download recent guidelines here
More Scholarships for Indian Students
Scholarship
Warning:
There is no need to provide bank account details or payment to any person or organization when applying for a scholarship or positions.Never give your bank account information, credit card or social security number to a prospective employer. Do not accept any offers to cash checks or wire money. If these details are requested for any job you see on scholarship-positions.com, please report the job to our
quality team
.
Important:
Scholarship-Positions.com is not responsible for the content of any external websites linked to or referenced on this site.
Browse Scholarships
Search International Scholarships and Financial Aid Positions