KU Leuven offers Taiwan Scholarship Programme which provides over a period of 5 years scholarships for up to 25 incoming Taiwanese students. The scholarship programme is available to undertake PhD studies at KU Leuven, in all fields of study.
The Katholieke Universiteit Leuven, abbreviated KU Leuven and also known as the University of Leuven, is a research university in the Dutch-speaking city of Leuven in Flanders, Belgium.
Course Level: Scholarships are available to undertake PhD studies at KU Leuven.
Study Subject: Scholarships are awarded in all fields of study.
Scholarship Award: The scholarship is awarded for a period of 3 to 4 years. Please note 50% of the scholarship is to be covered by the KU Leuven supervisor! Every year the total cost of the scholarship will be divided in a 1-1 ratio between the KU Leuven supervisor and the Taiwanese Ministry of Education. Each scholarship will pay:
An annual stipend at a rate which shall not be less than the 100% KU Leuven PhD scholarships for non-EEU residents, the scholarship is tax-free but covers social security (https://www.kuleuven.be/internationaal/iam/intranet/toelatingsbeleid/kostprijzen );
University tuition fee at the overseas rate;
Insurances (health insurance and third party liability insurance).
Number of Scholarships: Up to 5 scholarships will be awarded each year.
Scholarship can be taken in Belgium
Eligibility: Applicants should be ROC citizens normally resident in Taiwan, Penhu, Kinmen or Matsu, although those currently studying outside Taiwan are not excluded. Only new applicants for a PhD programme at KU Leuven may apply; students already registered for a PhD programme at KU Leuven are not eligible to apply for this scholarship.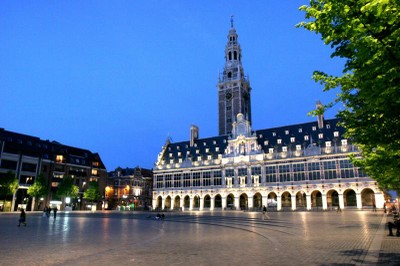 Nationality: Citizens of Taiwan are eligible to apply.
College Admission Requirement
Entrance Requirement: Applicants must have previous degree.
How to Apply:
1 Oct – 15 Nov 2017: KU Leuven supervisors can submit their vacancies by completing this form and returning it to Wouter De Raeve
7 Dec 2017 – 15 January 2018: Candidates can apply to vacancies
16 Jan – 10 March 2018: Selection of candidates in consultation with the KU Leuven supervisor and the doctoral schools
31 March 2018: The Taiwanese Ministry of Education informs the candidates who have been selected for the scholarship
1 Oct 2018: the selected candidates start their PhD
Application Deadline: The deadline for submission is November 15, 2017.
Need Scholarship Help? Comment and Discuss.