Applications are invited for Pakistan HEC-QMUL PhD Scholarships for Pakistani students at the Queen Mary University of London.
The purpose of this program is to provide good facilities and faculties for all those students who want to study PhD program. Full tuition fees and partial-stipend (£10,200/yr) are available.
Award

Application Process

Clarity of Information
Summary
Good chance for Pakistani students to study in Australia.
The Queen Mary University of London is a public research university in London, England, and a constituent college of the federal University of London. It ranked 119th rank in 2018/2019 International University Rankings.
Why at the Queen Mary University of London? The QMUL develops skill in their application as soon as possible along with gaining work experience which helps those making new contacts for their future decisions.
Brief Description
University or Organization: The Queen Mary University of London
Department: NA
Course Level: PHD program
Award: £10,200 (£850/month)
Access Mode:
Numbers of Award: Up to 36 per year
Nationality: : Pakistan
Program can be taken in the UK
Application Deadline:Multiple calls for HEC
Language: English
Eligibility
Eligible Countries: Pakistan
Eligible Course or Subjects: Applicant can apply for the PhD degree program in multiple academic schools – School of Biological and Chemical Sciences ,School of Electronic Engineering and Computer Science ,School of Engineering and Materials Science ,School of Mathematical Sciences ,School of Physics and Astronomy ,School of Business and Management ,School of Economics and Finance ,School of Geography ,School of Languages Linguistics and Film ,School of Law (Law and/or Centre for Commercial Law Studies).
Eligibility Criteria: To be eligible, the applicant must meet the following criteria- Applicant must complete their eighteen years of education and also carry two-second division in the whole academic career. For all members of public sector Universities /colleges, there are 40 years age registration and 35 years for other sectors. Students have to take 50or more than 50 marks in the program test.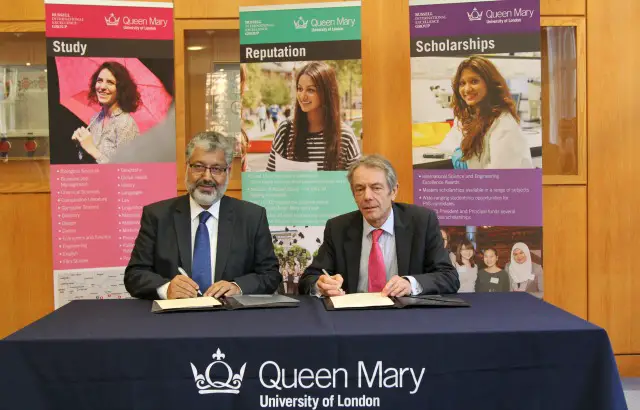 How to Apply
How to apply: To apply, the applicant must apply to the HEC Pakistan. The application process is available on the HEC website. If you are shortlisted by HEC, then you should apply to QMUL.
Supporting Documents: Applicant has to submit their personal CV along with a copy for their scholarship test certificate. And also attach a copy of passport's name page as a proof of their Pakistani citizenship. Admission will send you an e-mail; you should give this to HEC who will generate a provisional Award letter. Then you can apply for your CAS and start the visa process.
Admission Requirements: To apply at the university, the applicant has to submit copies of their bachelor's or master's degree program with good grades.
Language Requirement: Applicant must meet the English Language Requirement.
Benefits: The program will provide full tuition fee along with partial spines of £10,200 per year.