ITI International Team for Implantology is pleased to announce the availability of a funding for International Students to study at Universities Worldwide. These opportunities are awarded to spend a year abroad at one of 26 ITI Scholarship Centers at 22 universities worldwide.
The grant is designed to those who want to make a career in the field of dentistry and postgraduate training must be finished by the time the Scholarship year starts. The aim of the ITI award is to help clinicians further their training in implant dentistry and related treatments and it also helps to develop future leaders in implant education and the ITI.
ITI is a global association of professionals in implant dentistry. The objectives of the ITI are the promotion and dissemination of knowledge about implant dentistry and related fields.
Why you should apply at this University?
The ITI strives to ascertain the highest possible standards of continuing education in the field of implant dentistry and it provides a broader public with access to ITI treatment philosophies and guidelines.
Description
Application Deadline: June 30 each year
Course Level: The grant is targeted at the master degree level
Award: 30,000 Swiss Francs
Number of Awards: Up to 20 scholarships
Nationality: International
The award can be taken in 22 Universities Worldwide
Eligibility:
Eligible Countries: The following countries are eligible for this application Austria, Brazil, Canada, China, Hong Kong, Germany, Italy, Japan, Mexico, Netherlands, Serbia, Spain, Sweden, Switzerland, UK, USA
Eligible Course or Subjects: The sponsorship will be awarded in implant dentistry and related fields
Eligibility Criteria: This program is applicable for: If you are interested to apply for the opportunity then your postgraduate training must be finished by the time the Scholarship year starts. Sound knowledge of the local language of the preferred ITI Scholarship Center is required for the program.
You might also like these Programs
Career Path
The field of dental care offers different career options at many educational and professional levels. There are many other types of dental jobs available including dental laboratory technician and administrative office staff.
Application Procedure
The mode of application is online.
How to Apply:
Applicants must register themselves to access the application through the given link: https://itinet.iti.org/web/network/scholarship-application
Supporting Documents:
A potential candidate for a scholarship must submit all the following documents in PDF format
Admission Requirements:
If you are interested to apply for the opportunity and going to apply it, you should talk to the administration staff to ensure the admission requirements.
Program Benefits
The winner will receive a Scholarship Prize in the amount of 30,000 Swiss Francs
How it Works: The stipend received by the winner will be used towards the living costs of the ITI Scholar during the Scholarship year.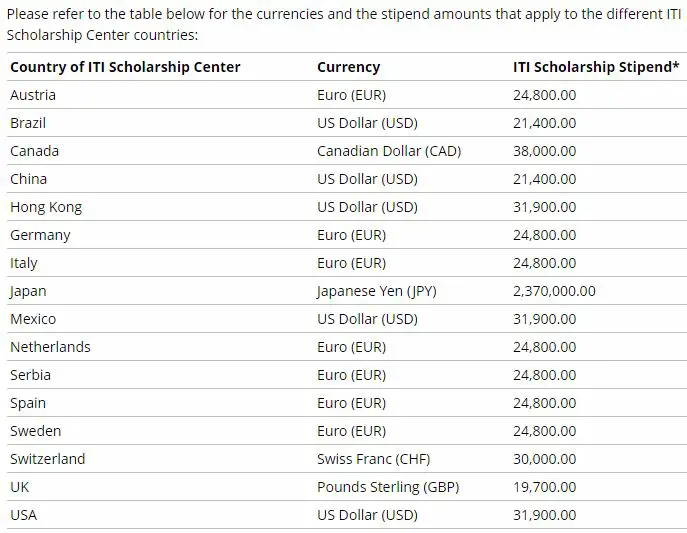 Dates and Deadlines
The applications for the opportunity open on May 31 at midnight CET each year and close on June 30, midnight CET.