The Monash Business School offers an International China Scholarship to reward outstanding academic achievement. These opportunities are available to pursue an undergraduate degree in Business at a Monash campus in Australia.
The aim of The grants is to strengthen the bond between Australia and China.
Review
Award

Application Process

Clarity of Information
Summary
Nice offer to Chinese applicants receive an educational fund.
Monash University is an Australian public research university in Australia. It is the second oldest university in the State of Victoria. Monash is a member of Australia's Group of Eight, a coalition of Australia's eight leading research Universities.
Description
Application Deadline: No application is required (Admission Deadline: October 30, 2020)
Course Level: These opportunities are available to pursue an undergraduate degree.
Study Subject: These opportunities are awarded in the field of business.
Award: These financial aid positions will cover $6000 per year (48 credit points of study) paid towards course fees until the minimum points for your degree are completed.
Number of Awards: Varies
Nationality: Chinese applicants
The award can be taken in Australia
Eligibility
Eligible Countries: Chinese applicants are eligible for these endowments.
Entrance Requirements: Applicants must meet the following eligibility requirements:

An international student or applicant from China (a Chinese national who is offshore at the time of application and who has a Chinese qualification)
Applying for a course through International Recruitment Services
Commencing on-campus undergraduate student in the Monash Business School at a Monash campus in Australia
A high-achieving student in the top 5% of your previous studies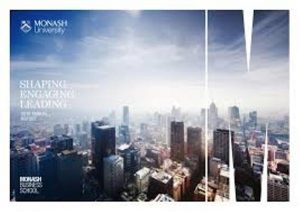 Application Procedure
How to Apply:
No application is required.
All eligible students who apply for an undergraduate course will be automatically assessed.
Cannot be deferred.
English Language Requirements:  Applicants must have at least two units (to a minimum of 12 points) of higher education study as part of an award or non-award course, of which at least one unit is an English-rich unit.