Would you like to get a PhD degree in the field of Music? If yes, then this PhD Studentship in Music will helpful for you which offered by the University of Cambridge. This is an excellent chance for your future.
The program is open for the EU as well as Non-EU students. Applicants can do PhD as 3-4 years full-time and 5-7 year for part-time.
Award

Application Process

Clarity of Information
Summary
Admirable award for international students to study PhD.
Founded in 1209, the University of Cambridge is one of the greatest universities in the world. The university offering undergraduate degree courses in the arts and humanities, social sciences, sciences, music, and engineering. It has 100 academic departments and best teaching faculties in most academic disciplines.
Why at the University of Cambridge? This university guides the program of study or research in the perfect way by which students can easily clarify their ideas and aim to meet the required standard.
Brief Description
University: University of Cambridge
Department: NA
Course Level: PhD program
Award: Total £22,467
Access Mode: Online
Numbers of Award: Not Known
Nationality: EU as well as Non-EU Students
Program can be taken in the UK
Application Deadline: June 30, 2020
Language: English
Eligibility
Eligible Countries: This program is available for the EU as well as Non-EU students.
Eligible Course or Subjects: Awards are awarded in the field of Music.
Eligibility Criteria: Applicants must have a master's degree in any musicological discipline (e.g., musicology, ethnomusicology, popular music studies) or related field (e.g., anthropology, cultural history).
­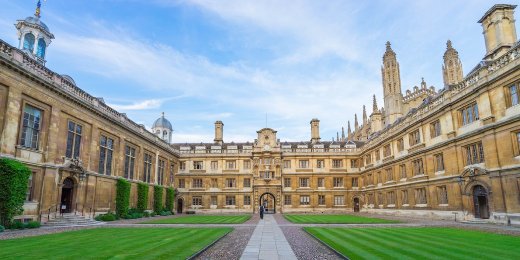 How to Apply
How to Apply: To apply for this studentship, students need to take admission in PhD degree at the University of Cambridge. After taken admission, they can submit an application by click on the given link Applicant Portal. You will receive an offer from the university after completing the application
Supporting Documents: Applicants need to submit two academic references, transcript and CV/resume.
Admission Requirements: For the admission in PhD degree applicants must have a master's Academic requirements will vary from course to course, and you should check the individual course entry in the Course Directory for the course-specific requirements.
Language Requirement: Applicants must meet required the English language criteria IELTS (7.5), TOEFL Internet Score (110), CAE Score: Grade A or B (with at least 193 in each individual element) plus a language centre assessment, and CPE Score: Grade A, B, or C (with at least 200 in each individual element).
Benefits
The program will provide the total value of £22,467, which covers University Composition Fee £8,337 and Maintenance costs £14,130 for successful PhD degree applicants.
Application Deadlines:
Lent 2020 (Closed): Oct. 4, 2019
Easter 2020 (Closed): Jan. 14, 2020
Michaelmas 2020: June 30, 2020
Lent 2021: Oct. 4, 2020
Easter 2021: Jan. 14, 2021