The University of Skövde is pleased to offer UHR scholarships for domestic and international students. The studentships are available for pursuing a masters degree program.
The University offers a Number of Awards to students who are attending an international master's program at the University and who are liable for tuition fees.
Review
Award

Application Process

Clarity of Information
Summary
Wonderful opportunity to get a master education in Sweden with a 50% tuition fee.
The University of Skövde is relatively young, but still comparable to the old prestigious universities in terms of quality. In the national quality assessments for 2011 to 2014, it came in seventh place.
Why study at the University of Skövde? The University of Skövde has courses in several different areas. They offer their partners in working life, academia and society broadly specialized, competitive research and highly competent researchers.
Brief Description
University or Organization: University of Skövde
Department: NA
Course Level: Masters degree program
Award: 50% of the tuition fee
Access Mode: Online
Number of Awards: NA
Nationality: Domestic and international students
The program can be taken in Sweden
Application Deadline: February 1, 2021
Eligibility
Citizens of a country outside the EU/EEA and Switzerland.
Generally, students can only be awarded a UHR scholarship if a master's program at the University of Skövde is chosen as the first priority.
The studentships are awarded to learn any of the courses offered by the University of Skövde.
You must meet the entrance requirements for the program you applied to and application fee and supporting documents must have been received before the deadline to University Admissions.
You should fill out a motivation letter when submitting the UHR scholarship online application. applications without a motivation letter will not be considered.
The master's program must be delivered on campus.
The criteria for awarding a UHR scholarship are good academic merits and the motivation letter. Criteria can also be other qualifications that are judged to be in line with educational or research areas as well as the geographic location which the University of Skövde gives priority to in accordance with its internationalization strategy.
Attention: If you are already admitted or enrolled as a master's student at the University of Skövde, you are not currently eligible to apply for UHR Scholarships. These opportunities are awarded prior to the commencement of a master's program.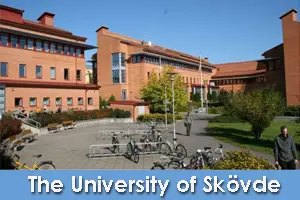 How to Apply
How to Apply: First you must apply for one of the University of Skövde's master's programs at the Swedish official online application service University Admissions. Then apply for a scholarship at the University of Skövde by filling in the online application form available on the link below. Please note that you will need to provide us with the application number you received from the University Admissions website.
Supporting Documents: No extra documents need to be sent. The University of Skövde will use documentation you submit with your master's program application on www.universityadmissions.se.
Your application number from www.universityadmissions.se must be informed on the UHR application form. Your motivation letter should be filled out in the application form.
Language Requirements: Scholarships to students attending a master's program at the University who are liable for tuition fees. Applicants from outside the home country will often need to meet specific English language/other language requirements in order to be able to study there.
Benefits
The bursaries are partial tuition fee waivers (50% of the tuition fee). The amount will be automatically deducted from the tuition fee when you receive your invoice. The bursaries are granted for one academic semester.