For all the citizens of China, the University of Dundee is furnishing great scholarships for post-graduation study level.
The purpose of the program is to provide a 1-year full-time post-graduate course for all the excellent students who are committed to their studies.
Award

Application Process

Clarity of Information
Summary
Nice program to study in the UK.
The University of Dundee was started in 1881 as a public research university. It is categorized within the top 300 universities in the world and within the top 40 in the UK by national university rankings.
Why at Dundee University? The University works on developing skills in male or female applicants and provides the best knowledge in arts, science, and other departments.
Brief Description
University or Organization: The University of Dundee
Department: NA
Course Level: Post graduation program
Award: £10,000 tuition fees
Access Mode: Online
Numbers of Award: Two
Nationality: China
Program can be taken in the UK
Application Deadline: Will re-open for the 20/21 academic year later in 2019
Language: English
Eligibility
Eligible Countries: Only Chinese citizens are eligible.
Eligible Course or Subjects: Applicants can apply for post-graduation program in multiple subjects such as- Anatomy / Forensic Anthropology / Forensic and Medical Art, Architecture and Urban Planning, Archives and Record Management, Art and Design, Biological/Biomedical Sciences, Biomedical Engineering, Business (Accountancy / Economics / Finance / International Business), Careers, Civil Engineering, Community Learning and Development, Computing, Education, Electronic Engineering, Energy Petroleum and Mineral Law and Policy, English / Creative Writing / Film Studies, European Studies, Geography / Environmental Science, History, Languages, Law, Liberal Arts, Mathematics, Mechanical Engineering, Nursing and Health Sciences, Philosophy, Physics, Politics and International Relations, Pre-sectional English courses, Psychology, Social Work.
Eligibility Criteria: To apply for the fund, the applicant must follow the eligibility criteria-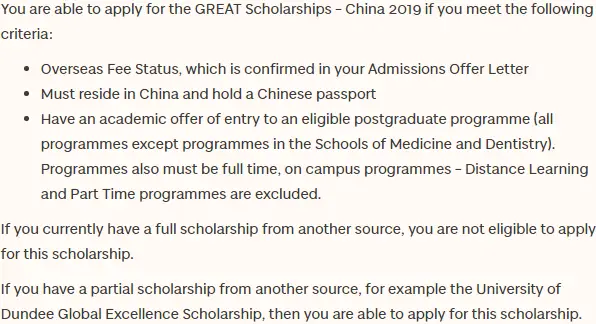 How to Apply
How to apply: For claiming the award, applicants have to take admission in the Post-Graduation program at the university. After taken admission, the applicants are eligible to download and complete the application form and send mail to [email protected]
Supporting Documents: To apply for the award, the applicant must submit their CV along with a copy for the passport's name page as proof of their citizenship.
Admission Requirements: For taking admission at the university, the applicant has to submit a copy of their bachelor's degree program with good grades.
Language Requirement: Applicant has to show their eligibility in the English language by taking IELTS or TOEFL test only if English is not their first Language.
Benefits: The program will be awarded £10,000 and helps with the full tuition fee for every applicant.