If you are an international student who wants to study at Aston University and also achieve a scholarship, then you have glad to know that the university is awarding Business School programs for international students.
These are available for pursuing full-time undergraduate degree program (BSc programmes) at Aston University. The maximum total award over four years is therefore £3,500.
Award

Application Process

Clarity of Information
Summary
Great platform for International Students.
Aston University has been a popular destination for international applicants who want to experience the diversity of British culture. Its careers + Placement service has been rated one of the best in the UK.
Why at Aston University- Aston is a leading UK university for business and technical businesses and is known for its world-class teaching and research in a safe yet vibrant and multicultural environment. It has more than 13,000 candidates from more than 130 countries.
Application Deadline: Closed
Eligibility:-
International holders can apply for these Business School free education.
These are awarded for various programs available in the area of Business & Management, Law, Marketing, Business & Languages, International Business, Accounting & Finance, IT & Computing, and Economics.
Applicants holding conditional firm or unconditional firm offers will be invited to apply in June 2016.
Programs are only available for international learners who are self-funded. UK and EU applicants sponsored by an organization are not eligible.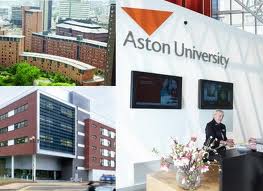 How to Apply: 
How to apply: To participate, Applicants holding conditional firm or unconditional firm offers will be invited to apply in June 2016. The applicants or the applicants' representative should submit the complete application by post.
Supporting Documents: To apply, students must write a letter of application and a letter of motivation (500 words) along with providing an academic reference supporting the application.
Admission Requirements: No admission requirements are available to apply for this free study.
Language Requirement: The English language is required for the free study.
Benefit:
Awards to the value of £1000 are for each year of undergraduate study for a maximum of three years. The Awards for the placement year is £500.00. The maximum total grant over four years is therefore £3,500. Grants are awarded competitively to help with the cost of tuition fees