College students often find that getting work done, studying and reading can be done easier with a tablet. You can watch Youtube, read textbooks, take notes, and basically do practically everything you need to at an affordable price that's less than a laptop. In a busy world where you need portability, tablets can help incredibly with the weight of your daily tasks.
Here are some of the best tablets for college students on a budget, ranging from the least to most expensive.
Amazon Fire HD 8
For under $100, you can get this Amazon Fire tablet with an 8-inch screen, a quad-core processor with 1.5 GB of ram and the Fire OS on it. It has a microSD slot, which is a plus for extra storage since it only has 16GB of storage on the tablet. The front and back cameras have 2 megapixels, and the battery lasts for up to 10 hours.
It features Dolby Audio, 1.5GB of RAM, and either 16 or 32GB of internal storage. You have the option of expanding space up to 400 GB additionally with a microSD slot.
Prime members get unlimited access to over 1,000 books and magazines, and it features the iconic and intuitive Alexa, allowing you to control any part of the room you're in.
It's sturdy and reliable. This tablet would best be used for reading textbooks, but if you're looking for a sharp screen with 1080p, you might want to consider a different option. However, with this tablet, you certainly get the best bang for your buck.
Lenovo Yoga Tab 3 8
This 8-inch LCD tablet runs a Qualcomm Snapdragon processor and it's on Android 5.1. It has 2GB of memory, which is a great specification. The hard drive features 16GB of storage space. It is Wi-Fi and Bluetooth capable.
Some of the great features are that it has an 8-megapixel rotatable autofocus camera and includes McAfee Security software built-in. It has a 4.1 rating. Its audio is "immersive," according to Lenovo, and features Dolby Atmos sound.
This costs less than $200. If you want to upgrade to the 10-inch, it costs a lot more but has many more features.
Huawei Mini-Pad
This tablet has a high screen resolution at 2560 x 1600, which makes it sharp and consistent. The battery lasts up to 10 hours, and it has a great design. It runs Android 6.0 Marshmallow, and it's front and back cameras have 8 megapixels — great for taking pics of homework or textbooks.
It also runs an octa-core system and comes with either 32GB or 64GB of storage, also with a microSD slot. This comes for a respectable price of just under $300.
Samsung Galaxy Tab E
This 8-inch tablet runs on the Verizon network, complete with 16GB of storage. It has a long-lasting battery, and when it gets low on battery it goes into Ultra Power-saving Mode, which gives you the option of running only certain apps.
You can insert up to a 400GB microSD card, which provides a lot of space for all your favorite things.
Quickly toggle between photo and video modes with HD video recording and 1280 x 720 video resolution. The front-facing camera has a standard 2-megapixel specification, with the rear-facing camera at 5 megapixels.
It can play videos for up to 13 hours and play music for up to 117 hours. Using Wi-Fi, it lasts up to 14 hours, and it can run on an LTE network for up to 13 hours. This tablet will run you $250 new.
iPad
On the 9.7-inch retina display iPad, you have four-core design and over 3.3 billion transistors, which makes this tablet really fast. It comes in Silver, Gold, or Space Gray.
You can play 4k video, play graphics-intensive games, or experience Virtual Reality, according to Apple. It comes with the handy Apple Pencil, so you can draw, write, or create whatever you wish. It has an 8-megapixel rear-facing camera with 1080p HD video capability. Its intuitive on-screen keyboard is precise, but it's also Bluetooth compatible with many keyboards as well.
It has many built-in apps for productivity, including GarageBand, Keynote for making presentations, and iMovie. This iPad features WiFi speeds of up to 866 Mbps, LTE speeds of up to 300mbps, and is compatible with LTE networks in over 180 countries with Apple SIM.
It lasts up to 10 hours, as is standard for many tablets. It also has the option of storing all your files in places like Google Drive, OneDrive and Box. Another great feature is the standard Apple Dock, so you can put all your favorite apps on the homepage for easy access.
You can keep it secure with adding Touch ID as well. This iPad costs just over $300. While on the more expensive side of tablets, you can do a whole lot more and increase your productivity.
iPad Mini
The 8-inch iPad Mini comes in the same colors as the iPad and comes with 64GB or 256GB storage space. It has a Touch ID sensor and features a Lightning connector. For the cellular models, it comes with a Nano SIM tray. It has an LED-backlit retina display.
It features an 8-megapixel camera with f/2.4 aperture and 1080p HD video recording with Slo-mo, complete with Autofocus, Auto-image stabilization, and photo geotagging.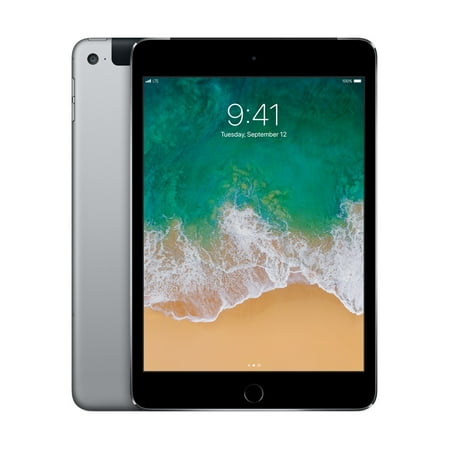 The front-facing camera will take a whopping 7-megapixel photo with a burst mode, exposure control, and a timer mode. It will work with Wi-Fi and LTE networks as well and it comes with the iconic Apple Pencil. It runs on iOS 12.
This model will start at $399, being the most expensive of the bunch. The tablet features a smaller screen so you can take it anywhere you go, but holding the power of Apple technology.
These are just a few of the best tablets for college students, and they're more affordable than other tablets out on the market. No matter what you choose, a tablet will work wonders for your college experience.