Ministry of Education of P.R. China is pleased to offer The grants for international students in 2020-21 academic session. financial aid positions will be awarded to undertake doctoral and masters program in China.
In order to promote the mutual understanding, cooperation and exchanges in various fields between China and other countries, the Chinese government has set up a series of programs to sponsor international students,  to study in Chinese universities.
Review
Award

Application Process

Clarity of Information
Summary
Helpful offer for international students to get a study fund in China.
The China Scholarship Council (CSC) is a non-profit institution with legal person status affiliated with the Ministry of Education. The objective of the CSC is to provide, in accordance with the law, statutes and relevant principles and policies of China, financial assistance to the Chinese citizens wishing to study abroad and to the foreign citizens wishing to study in China in order to develop the educational, scientific and technological, and cultural exchanges and economic and trade cooperation between China and other countries.
Description:
Application Deadline: The application opens between early January and early April.
Course Level: Masters and doctoral.
Study Subject: Any subject
Nationality: International students (non-Chinese citizens)
The award can be taken in China
Eligibility::
Eligible Countries: International students (non-Chinese citizens) can apply for these endowments.
Entrance Requirements: Applicants must be a citizen of a country other than the People's Republic of China, and be in good health.
The requirements for applicants' degree and age are that applicants must:
be a high school graduate and no more than 25 when applying for the undergraduate programs;
be a bachelor's degree holder and no more than 35 when applying for the master's programs;
be a master's degree holder and no more than 40 when applying for the doctoral programs.
English Language Requirements: General Chinese Language requirements for application to Chinese-instructed program
Old HSK6 (or new HSK5)or above is required for application of liberal arts, economics and management majored students.
Old HSK3 (or new HSK4) or above is required for application of science, engineering and medical science majored students.
For details please refer to requirements published by the university.
General English language requirements for application to English-instructed programs:
Free English Language testing for students from English speaking countries.
Free English Language testing for students from countries in which English is the major teaching language on condition that the relevant proof documents were provided.
TOEFL 550, IELTS 5.5 or Pass university's entrance examination.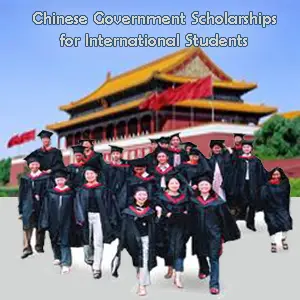 Application Procedure:
How to Apply:
Apply directly to your target university.
Complete the online application procedure at CGS Information Management System for International Students (Visit http://www.csc.edu.cn/studyinchina or http://www.campuschina.org
Submit all your application documents to your target university such as:
Notarized highest diploma
Academic transcripts
A Study Plan or Research Proposal
Two Recommendation Letters
Foreigner Physical Examination Form
Benefits
The Chinese University Program provides a fully-funded position which covers tuition waiver, accommodation, stipend, and comprehensive medical insurance.