The University of Queensland is offering Malaysia Global Leaders funding for pursuing undergraduate and postgraduate coursework. The grant is available to Malaysian students studying a program within the Faculty of Business, Economics, and Law (excluding the MBA) in Australia.
Opened in 1909, the University of Queensland (UQ) is a public research university located primarily in the capital city of the Australian state of Queensland. It offers various degree programs.
Why choose the University of Queensland for study? By joining the university, candidates will gain excellent teaching, flexibility, and facilities to keep them on track for academic success.
Application Deadline: Applications close on the same dates every year: 30 November for semester 1 and 30 April for semester 2.
Brief Description
Course Level: award is available for pursuing undergraduate and postgraduate coursework at the University of Queensland.
Study Subject: award is offered within the Faculty of Business, Economics, and Law (excluding the MBA).
Award: Up to $20,000
Number of Awards: Not Known
Nationality: Students of Malaysia
The award can be taken in Australia
Eligibility
Eligible Countries: The students of Malaysia can apply for the opportunity .
Entrance Requirements:

Citizens of Malaysia who normally reside in Malaysia and are not already undertaking any studies in Australia. Those studying English in Australia are still eligible to apply.
Students who wish to commence their program at UQ in Semester 1, 2021
Students must not simultaneously hold another scholarship
Students who have received an unconditional offer for a relevant undergraduate or postgraduate coursework program and who are commencing students at UQ (the opportunity is not open to currently enrolled UQ students, or students studying at UQ on study abroad or exchange)
Criteria are based on academic excellence, and high achieving students are encouraged to apply.
Undergraduate opportunities: students who have completed, or are completing A levels, STPM, GCE, SAM, AUSMAT, UEC or Ontario Secondary School Diploma (or equivalent senior secondary study in Malaysia), as well as those students currently studying at a recognized higher education institution (and seeking credit transfer into the UQ Bachelor) are encouraged to apply.
Postgraduate opportunities: high achieving students who have completed a Bachelor's degree from a recognized tertiary institution are also encouraged to apply.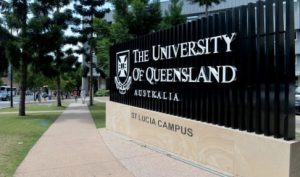 Application Procedure:
How to Apply:
Lodge an official application online here for your chosen undergraduate or postgraduate coursework program. You must apply for your chosen degree program first before applying for the opportunity .
Receive a UQ Student ID Number and an unconditional offer (or a conditional offer providing that all conditions are to be met by the application closing date).
Once you have received your offer, complete the Faculty of Business, Economics and Law International application Form online here. You will be required to submit the following with your application:
Supporting Documents: You must submit all the following documents:
CV/Resume
Personal/motivational statement
This statement should be no more than 1,000 words and address:
– The reasons for your interest in your chosen degree program, including why you wish to study this program at UQ
– Your personal goals and ambitions and evidence of any previous activities or experiences (including voluntary activities) which demonstrates your commitment to those goals and ambitions.
One reference letter from teaching staff at your institution or from an employer, if available (in English). The academic reference letters should ideally rank your academic performance against your peer group.
English Language Requirements: To meet the UQ's English language proficiency requirements, applicants must demonstrate one of the following:

A score is equivalent to four semesters of Sound Achievement in Queensland Studies Authority English or Australian or international equivalent. Less than four semesters may be considered for some programs.
At least 6.5 overall and a minimum of 6.0 in each sub-band of the International English Language Testing System (IELTS) or equivalent test. Some programs have higher English proficiency requirements; see individual program requirements.
Other equivalent tests such as the Test of English as a Foreign Language (TOEFL) and Pearson Test of English (PTE) Academic are also accepted and other qualifications and experience may also be considered.
Study Abroad and Incoming Exchange students are only required to meet the overall score (eg 6.5 IELTS or 87 TOEFL or 64 PTE).

Test Requirements: If applicants are demonstrating their English proficiency with an IELTS test score, they must attach a copy of the IELTS test result to your application which university will verify.

Test of English as a Foreign Language (TOEFL)
For internet-based (IBT), computer-based (CBT) and paper-based TOEFL tests, applicants must attach a copy of the TOEFL test result to their application which university will verify.
Note: UQ does not generally accept TOEFL results for quota-based programs, nor does it accept institutional TOEFL tests.
Benefits
The University of Queensland provides award amounts range from $5000 to $20,000 for the successful students.