The Zukunftskolleg is pleased to offer up to 5 post-doctoral ZUKOnnect Fellowships for Scholars from Africa, Asia and Latin America. The goal of this program is to create networks at the pre-professorial level."
The opportunity is available to support early-career researchers from Latin America, Africa, and Asia related to one of the thirteen University of Konstanz's departments.
Review
Award

Application Process

Clarity of Information
Summary
Beneficial offer for doctoral students from Africa, Asia and Latin America.
The program encourages doctoral students and works to build a first bridge to the German and European academic system. As a ZUKOnnect Fellow, during this program, candidates can improve their research networks and can know more about the research environment at Constant University without losing connection with their home university.
The Zukunftskolleg is an Institute for Advanced Study (IAS). The University of Konstanz was founded in 1966 in Germany. It consists of thirteen divisions divided into three faculties.
Application Deadline: 28 February 2020
Brief Description
University or Organization: Zukunftskolleg, University of Konstanz
Department: NA
Course Level: Post-doctoral
Award: Stipend and travel costs
Access Mode: Online
Number of Awards: Up to 5 post-doctoral stipends are available for up to 3 months (with justification for up to 4 months)
Nationality: African, Asian and Latin American
Eligibility
Eligible Countries: For the fellowship, Zukunftskolleg has only broadly defined the geographical areas without linking it to political borders. There is no list of eligible countries.
Admissible Criteria: Participants must meet all the following:
Candidates originate and work in a country of Latin America, Asia or Africa, but this does not need to be a single country. Applicants are also eligible if e.g. they have an Asian origin but now work in Latin America.
Applicants must hold a doctorate (max. 2 years of postdoctoral experience) OR are a doctoral student in your last year.
Participants do not hold a permanent professorship. Nor do they have a Habilitation or equivalent (Venia legendi).
The applicant's research project should tie in with one of the disciplines represented at the University of Konstanz.
Candidates should name a researcher at the University of Konstanz with whom they intend to collaborate (no need to contact person(s) in advance),
Preference will be given to applicants who plan to team up with one of our current Zukunftskolleg Fellows.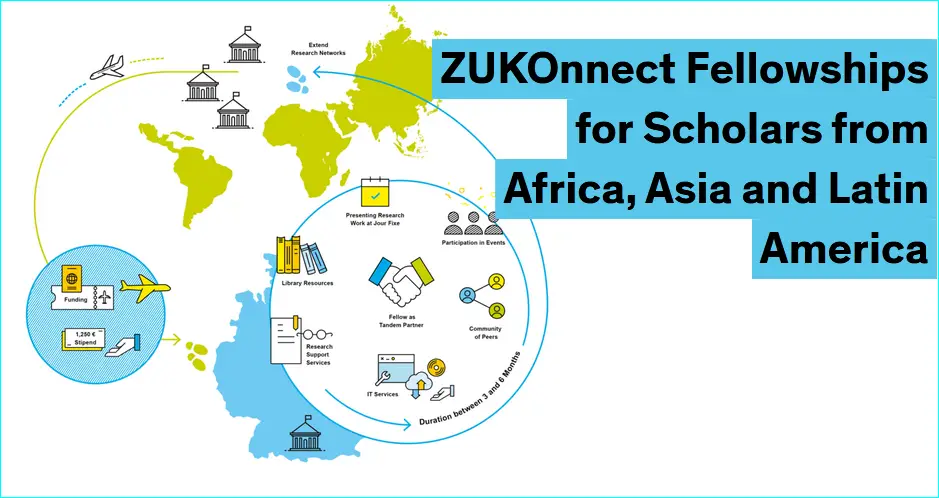 How to Apply
How to Apply: Participants must submit the application documents in English via the online application portal. The reference number is 2019/336.
Supporting Documents: Applications should include all the following: A motivation letter, 2) Short description or summary of the current research project (maximum three pages), 3) Curriculum vitae, 4) Certificates (doctoral certificate or a letter of your supervisor), and 5) Reference letter.
Entry Requirements: Applicants must hold a doctorate and have a max. 2 years of postdoctoral experience or are a doctoral student in last year.
Language Requirement: Applicants must be suitable in English language.
Benefits
Up to 5 post-doctoral stipends for up to 3 months (with justification for up to 4 months) and are based at the Zukunftskolleg.
The fellowship opportunity will start between September 1st, 2020 and October 1st, 2020.
The winners will receive a stipend of 1.200€/ month for 1doctoral students and 2.000€/month for postdoctoral researchers (following DAAD guidelines) and standard expenses for economy-class travel to Konstanz and back.
The awardee will have access to events organised by the Zukunftskolleg, Access to library resources, Access to IT services, and Access to research support services (via Research Support)
After the research stay at the Zukunftskolleg, Fellows can extend their affiliation with a digital fellowship for an additional six months.