Japanese students have a scholarship opportunity to study in Australia. Bond University is offering 30th Anniversary Scholarship – Japan for the talented students from Japan.
The program is open for candidates to study the bachelor or masters degree programs in any field of study at Bond University.
Review
Award

Application Process

Clarity of Information
Summary
Wonderful opportunity for Japanese students to study in Australia.
Located in Australia, Bond University has primarily been a teaching-focused higher education institution, which allows students to complete an undergraduate degree in two years. It is Australia's first private, not-for-profit university.
Why at Bond University? Bond aims to help identify future leaders and realize their full potential by providing access to an exceptional educational experience. It offers many career opportunities for eligible candidates.
Brief Description
University or Organization: Bond University
Department: NA
Course Level: Bachelor or masters degree programs
Award: 50% tuition fee remission
Access Mode: Online
Number of Awards: Not known
Nationality: Japanese students
The award can be taken in Australia
Application Deadline: June 30, 2020
Language: English and official at home
Eligibility:
Eligible Countries: Japanese students are eligible to apply for programmes .
Eligible Course or Subjects: The studentships are available to study the bachelor or masters degree programs in any subject offered by the university.
Eligibility Criteria: The applicant must meet the following eligibility criteria: The applicant must have already received an offer from Bond University to commence either a bachelor or masters degree or a package of programs including either a bachelor or masters degree, in 2019 or 2020. Students with packaged offers must commence the degree portion of their package in or prior to the September 2020 semester.
Those studying English at Bond University College as part of a packaged Offer are still eligible to apply. Examples of judging criteria include community involvement, leadership qualities, artistic achievements, sporting achievements, and other activities where you have been recognized for your contribution.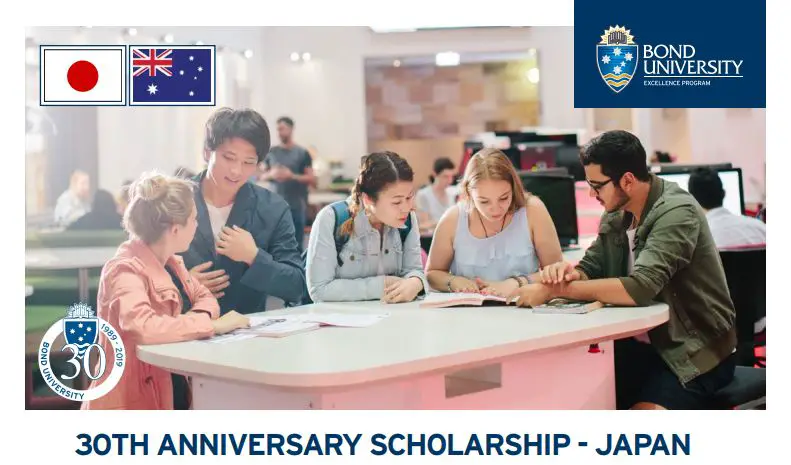 How to Apply
Applications close on 30 June, 2020 for students commencing in September 2020 semester.
How to apply: To be considered for the opportunity s, students must complete the Bond University Online Application Form to receive their program offer of study. Once an offer has been received, students can download the 30th Anniversary – Japan application Form and submit it to the [email protected]
Supporting Documents: Candidates must have to submit their academic transcripts and certificates of completion/Testamur.
Admission Requirements: For postgraduate study, the entry requirements are unique to each individual program. Search for your program of interest to find out the specific entry requirements.
Language Requirement: All applicants must provide formal documentary evidence of English language proficiency.
Benefits: Japan The studentships are awarded a 50% tuition remission for the duration of the chosen program.