So, you have graduated out of college abroad and are raring to give a shot at getting a job! How about taking some time out to contemplate the move carefully and thinking over a career path to build a life abroad from scratch? Yes, it is possible to do just that, in an organized manner. Although studying and working abroad is a life-changing experience, it can be all the more confusing if not handled with dexterity.
In this piece, we will explain you the ways to build a career – thereby a full-fledged life – for yourself in terms of focusing on career opportunities, keeping touch with people in your network, branding yourself, meeting potential employers in person and being patient.
Preparing for Building a Life and Career Abroad
Building a career abroad involves meticulous planning and the various aspects involved in this preparation include:
Networking
Students who are physically present abroad have a unique advantage of networking opportunities which cannot be done from far away. Explore the job market locally and take note of opportunities that come along with it. Being able to network in person is also a skill that needs to be mastered in order to increase your chances at landing a job opportunity.
Developing Your Personal Brand
One of the other aspects of networking and finding job opportunities in the development of your personal brand. This is a very critical aspect of starting out with your career in the current job market, irrespective of which country you are looking at for opportunities.
For example, publishing on social media, networking with various people on Twitter or creating career and skills oriented posts on LinkedIn, all of these constitute a step towards making you stand apart in the race. It gives you the platform to show that you offer something much more as a professional than just a resume document to collate your achievements.
Moreover, you need to effectively "market" yourself.  Sharing your ideas about the industry you are associated with, networking with influencers and professionals of your field to share thoughts, beginning conversations and asking questions are among the few things that can be the part of an effective marketing strategy for your career moves abroad.
If you want to get one step closer to effective marketing, this targeting and networking can be focused on professionals within the country you are studying in. This will not only get you pertinent connections but will also allow you to leverage your physical presence and have a meeting with potential employers or influencers in your host country.
Meeting Potential Employers
As discussed earlier, it is of great advantage to be able to meet potential employers if you are physically present in the country you are studying in. To make sure that this opportunity is spent wisely, narrow down your field of interest and the companies you are interested to work within that area.
Get started with reading their social media accounts, general information on their respective websites and internet, company blogs and their mention in recent news to get a sense of their working environment, their approach to the industry and the role they play in the whole ecosystem. This type of information can hold you in good stead as far as networking and grabbing potential job opportunities is concerned.
Once you zero down on the company that makes you interested, the next step is to become more targeted in your approach and find specific employees (preferably expatriates) whom you can contact.
You can communicate and request them to share their experiences, information about the role you are seeking in the company, industry-related questions, their life as an expat and how they shaped their career and built their life abroad. This can help you widen your horizons and eliminate invisible barriers that crop up between goals and intent to achieve that goal.
Exercise Care and Patience
While scouting for potential employers and opportunities by networking and formally meeting employers, you must exercise reasonable care to ask specific questions and keep the conversation formal, unless the setting allows you to be more social.
You must also be brave and patient for asking the right questions to employees who work in your targeted company. People are, in general, quite happy to answers questions, so if you want to discuss the job market or even get a tour of the company's offices, do not hesitate to ask.
If things work out in your favour, you could even get a chance to interview for the position you are keen on.
Once you successfully connect with potential employers, it also pays to be patient and continue looking for newer opportunities. This keeps you up in terms of morale and detaches you from the emotional see-saws of the waiting game. It might be entirely possible to find a better opportunity compared to the one you found the first time around.
Begin with Tapping Your Connections
Recall that gang of friends from school and college? If no, then refresh your memories and reconnect with your old set of connections, be it on LinkedIn, Facebook or Twitter.
You could filter out LinkedIn connections that may have experience working in a place abroad, or you could initiate a conversation with a twitter connection concerning opportunities to network and explore career opportunities.
Overall, your connections in the social networking arena are a great place to start your search for a career and thereby building out a life for yourself as an international student.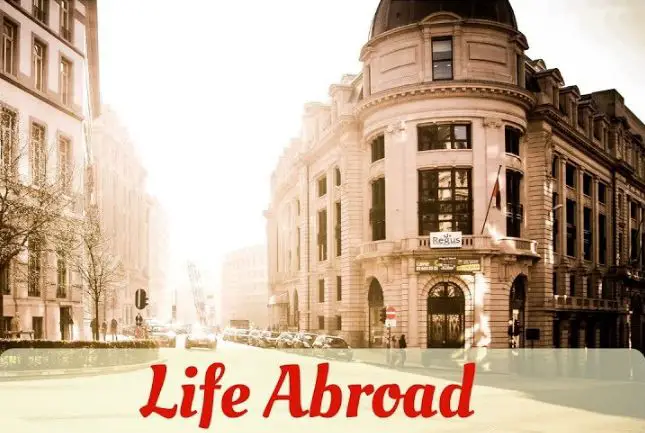 To summarize, building a life abroad is more like a matter of how you want your life to pan out, and then making persistent efforts to reach that goal. It may not be easy, but the zeal to spend your time in the country you study and by following the tips mentioned in this write-up, you should be able to get a fair idea of how to make a living and climbing the ladder of success.