College of Lake County is a great place for international students to study! You can receive a $1,000 award as a New F-1 Visa Student to study at College of Lake County for an academic year!
The New F-1 International Student Scholarship is available to new CLC F-1 visa holding international students in the USA. Students from many various backgrounds experience CLC as a place that nurtures community and personal achievement.
Award

Application Process

Clarity of Information
Summary
Worthy offer for international students to study in a community college in the USA with study support.
College of Lake County (CLC) is a two-year public community college in Grayslake, IL. Whether it's your goal to start your studies at CLC and then transfer to a top university, or experience the excitement of living near Chicago, change your life, you can start your success with CLC.
Why at the College of Lake County? CLC wishes to prospective international students to have a positive experience. It utilizes partnerships with organizations all over the world in order to assist in our recruitment efforts of international students.
Brief Description
University or Organization: College of Lake County
Department: NA
Course Level: Any courses at CLC
Award: $1,000
Access Mode: Online
Number of Awards: Varies
Nationality: New CLC F-1 visa holding international students
The award can be taken in Germany
Eligibility
Eligible Countries: Applications are accepted form International students who hold an F-1 visa
Acceptable Course or Subjects: The award will be awarded in any subject offered by the CLC
Admissible Criteria: To be eligible, the applicants must meet all the given criteria:
All new international students are required to attend the New International Student Orientation held the week before classes begin each semester. This two-day program includes important information about the college and community, health care, adjusting to the American culture and maintaining F-1 visa status.
Scholarship recipients must maintain a minimum grade point average of 2.0 and full-time status.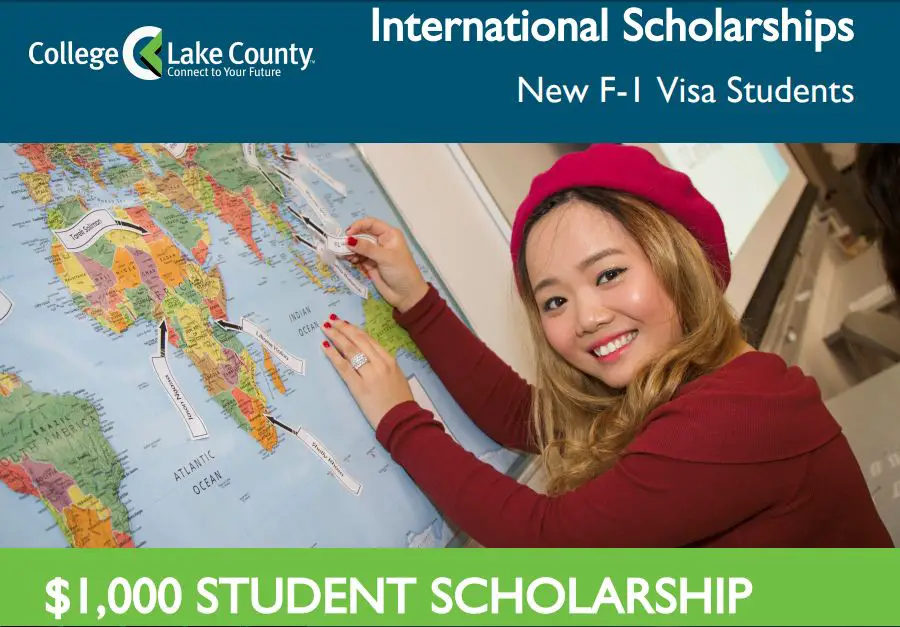 How to Apply
How to Apply: To apply for this offer, you must complete all the following and submit by emailing documents to [email protected]
Supporting Documents:
To show proof of successful completion of high school or secondary exam certificate results, must submit official English-translated diploma or certificate.
Official bank letter or statement from the applicant's or sponsor's bank verifying at least $22,216 US dollars (equivalent). Letter/statement must be written on official letterhead, including – Date (current within 6 months), Account holder's name, and current balance
Admission Requirements: All international students are required to enrol in CLC's international student insurance policy.
Language Requirement: CLC accepts TOEFL OR IELTS scores as proof of language proficiency for placement in college-level classes: TOEFL: 71 or above – IBT, internet-based OR IELTS: 6.0 or above – Academic Format
Benefits
The college will provide $1,000 award that will be applied to your tuition expenses for Fall ($500) and Spring ($500) semesters. Grant awards are non-transferable and must be used for the semester and for the campus for which you are accepted.
Application Deadlines: July 1st – Fall Semester, November 1st – Spring Semester, and April 1st – Summer Session (transfer students only).