Gettysburg College is delighted to announce the Eisenhower funding for Incoming Students to achieve their educational goal.
The award is designed to recognize outstanding applicants to Gettysburg College who are also positively transforming their communities.
Review
Award

Application Process

Clarity of Information
Summary
Nice opportunity for students to get fund for four years study.
Gettysburg College is a four-year liberal arts and sciences college which founded in 1832. It is a highly selective private college located in Pennsylvania.
Why at Gettysburg College? Gettysburg offers numerous fields of study and four possible degrees; Bachelor of Arts, Bachelor of Science, Bachelor of Music, and Bachelor of Music Education.
Application Deadline: January 15, 2021 (The application will be available August 1, 2020)
Brief Description
University or Organization: Gettysburg College
Department: NA
Course Level: Undergraduate
Award: $160,000 for four years ($40,000 per year)
Access Mode: Online
Number of Awards: Varies
Nationality: Domestic
The award can be taken in the USA
Eligibility
Eligible Countries: United States
Acceptable Course or Subjects: The award will be awarded for full-time study in any subject offered by the Gettysburg
Admissible Criteria: To be eligible, the applicants must meet all the following:
Top-performing applicants within a most challenging curriculum who have demonstrated a high level of civic engagement locally, nationally, and/or internationally.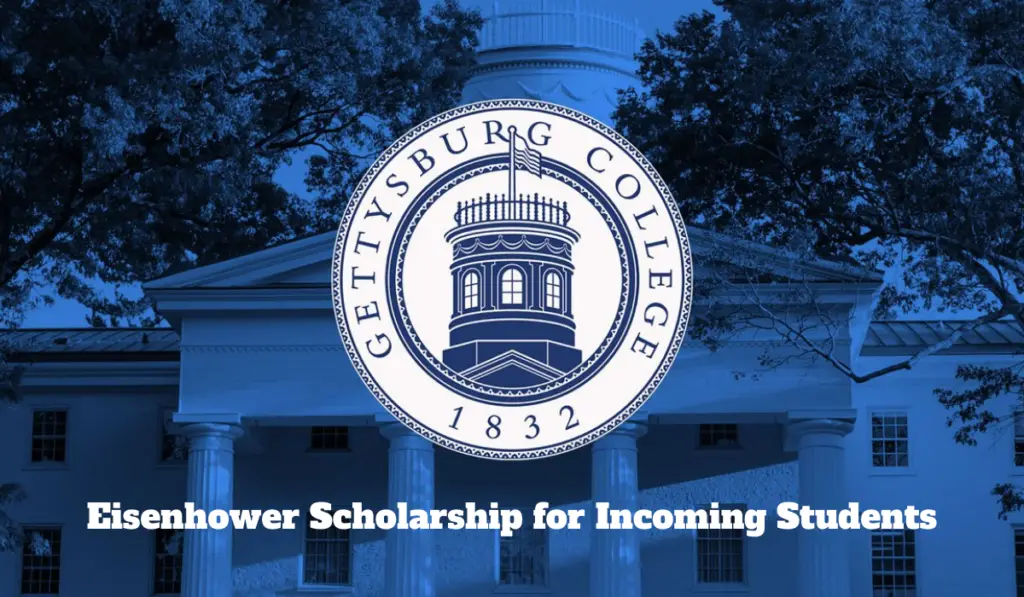 How to Apply
How to Apply: Before starting the process for award application, applicants need to submit a common application for admission at Gettysburg College. Applicants must complete and submit the Eisenhower Scholarship application and write an essay on the following questions (300-350 words each):
1) Briefly explain the civic engagement activities with which you have been the most involved throughout high school and have resulted in the greatest impact on you and/or your community.
2) Why is civic engagement important to you and how do you feel your work has made a difference?
3) At Gettysburg College, we graduate students who lead lives of impact. Explain how your future civic engagement will create a lasting legacy.
Supporting Documents: Applicants must submit an official high school transcript and counsellor/teacher recommendations
Admission Requirements: To be considered for the study grant, applicants must have appropriate self-reported/Official SAT I or ACT scores
Language Requirement: Gettysburg College requires international applicants to submit English proficiency testing if English has not been the language of instruction in the classroom for at least 2 years, or if English is not the first language.
Benefits
Gettysburg College is providing $160,000 for four years of full-time study ($40,000 per year).
In order to keep the award, scholars must maintain a 3.0 GPA while at Gettysburg.