The Humboldt University of Berlin is currently receiving applications for Humboldt Research Track Scholarship which encourages beneficiaries to concentrate on the readiness of their PhD proposition. Up to 24 grants will be given every year to worldwide students.
This scholarship is designed for outstanding students and graduates who had accomplished their master's degree and willing to take admission in the doctoral program.
Award

Application Process

Clarity of Information
Summary
Excellent funding opportunity for Master's students who plan to pursue a PhD.
As one of eleven German universities, the Humboldt-Universität was chosen "University of Excellence". It was successful in all three funding lines in the third round of the Excellence Initiative of the German federal and state governments.
Why at Humboldt Universität? The university puts all its vitality in being a position of excellent research and teaching. University's aim is to evaluate young talents and to positively influence society and economy outside the university framework.
Brief Description
University or Organization: Humboldt University
Department: NA
Course Level: PhD
Scholarship Award: 800 EUR
Access Mode: Online
Numbers of Award: 24 scholarships
Nationality: International students
Scholarship can be taken in Germany
Application Deadline: May 15, 2020
Language: English
Eligibility 
Student having any citizenship is permitted to apply for this scholarship.
Getting the scholarship, the student should be a part of the PhD program in any subject area.
Students who have a master's degree as well as graduate degree and are willing to pursue their PhD at Humboldt-Universität, are qualified for this scholarship.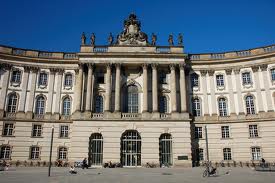 How to Apply
How to apply: Students are requested to fill their application form via the online application portal.
Supporting Documents: To apply for this scholarship, applicants have to submit the online application form, curriculum vitae, certificates of their academic degrees, and a sketch of their research proposal, Letter of recommendation from your Master thesis supervisor or from one of the instructors from your Master's program, Expert review of your PhD proposal.
Admission Requirements: For being qualified for this fellowship the applicant must have a master's degree.
Language Requirement: Applicants must have expertise in English and Germany.
Benefits
Financial assistance of 800 EUR per month is given to the selected researcher for up to six months. Scholarship recipient with children receives an additional 400 EUR a month for the first child, plus 100 EUR for each additional child.