INSEAD Business School is pleased to offer scholarships for the students of Middle-East and African students. Scholarships are awarded for pursuing MBA programme at INSEAD Business School.
The scholarships will help underwrite the breadth of diversity of participants in the INSEAD MBA programme. Scholarships back INSEAD's commitment to retaining outstanding men and women for the programme who demonstrate a need for financial support.
Award

Application Process

Clarity of Information
INSEAD is a graduate business school with campuses in Europe offers various academic programs including a full-time Master of Business Administration (MBA) program, Executive MBA (EMBA) program, a Master in Finance program, a Ph.D. in management program, and a variety of executive education programs.
Applicants from outside the home country will often need to meet specific English language/other language requirements in order to be able to study there.
Brief Description
Application Deadline: 3 June 2019 and 22 July 2019
Course Level: Scholarships are available for pursuing master's degree program.
Study Subject: Scholarships are awarded for studying MBA programme at INSEAD Business School.
Award: Scholarship has a value of 20 000 Euros.
Number of Scholarships: Not given
Nationality: the Middle East and Africa (MEA)
Scholarship can be taken at INSEAD Campuses
Eligibility
Eligible Countries: Candidates from the Middle East and Africa (MEA) can apply.List of Countries: Nigeria, Ethiopia, Egypt, Democratic Republic of the Congo, South Africa, Tanzania, Kenya, Algeria, Uganda, Sudan, Morocco, Ghana, Mozambique, Ivory Coast, Madagascar, Angola, Cameroon, Niger, Burkina Faso, Mali, Malawi, Zambia, Senegal, Zimbabwe, Chad, Guinea, Tunisia, Rwanda, South Sudan, Benin, Somalia, Burundi, Togo, Libya, Sierra Leone, Central African Republic, Eritrea, Republic of the Congo, Liberia, Mauritania, Gabon, Namibia, Botswana, Lesotho, Equatorial Guinea, Gambia, Guinea-Bissau, Mauritius, Swaziland, Djibouti, Réunion Comoros, Western Sahara, Cape Verde, Mayotte, São Tomé and Príncipe Seychelles.
Entrance Requirements: The scholarships will be granted to candidates who have been admitted to the full-time MBA programme and who have applied for financial assistance by filing the need-based scholarship application form and essays. Applicants must be from the Middle East and Africa (MEA), meaning of MEA country nationality and showing they have spent a significant time of their upbringing in MEA region. Applicants provided and financial need substantiated, preference will be given to French West Africa (Mauritania, Senegal, Mali, French Guinea, Ivory Coast, Burkina Faso, Benin, and Niger) Syria and Iraq. Candidates admitted to the MBA Programme with the above-mentioned profile will be considered. Financial need will be taken into consideration.
English Language Requirements:  Minimum required scores: TOEFL IBT: 105; TOEFL CBT: 260; TOEFL PBT: 620; TOEIC (all four parts are required): Listening and Reading: 950 – TOEIC Writing: 170 – TOEIC Speaking: 190; IELTS Academic or General: 7.5; PTE Academic: 72; and CPE: B.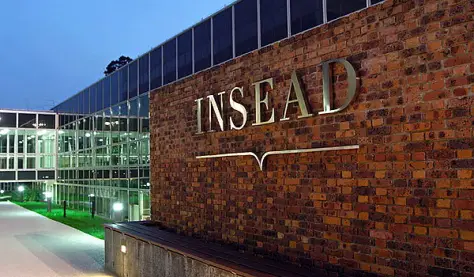 Application Procedure:
How to Apply: Complete the INSEAD MBA online application and attach the required supporting documentation to their application. Please attach following supporting documents via the online application system.
Letters of Recommendation
Job Description Questions; Essays (Four compulsories, one optional)
Please attach a CV
GMAT or GRE score
Minimum required scores
Entry language certification (If English is native language)