Rotary Foundation is now accepting applications for the Rotary Graduate program. The Rotary scheme is one of the largest privately funded awards in the world.
The grant is intended to help a deserving student to accomplish educational goals and prepare for future career aspirations.
Review
Award

Application Process

Clarity of Information
Summary
Wonderful programme for Study in the USA.
This is for students from outside the UK (a citizen of a low to middle-income country), who are planning to take up a place on a graduate course within District 1090. In 2017 Rotary International celebrated 70 years of the study.
The Rotary Foundation is a non-profit corporation that supports the efforts of Rotary International to achieve world understanding and peace through international humanitarian, educational, and cultural exchange programs
Application Deadline: Check back next year
Eligibility 
International candidates are eligible to apply for education.
This will be awarded either in the area of Peace and Conflict Prevention/Resolution or Economic and Community.
The applicants must be following eligibility criteria: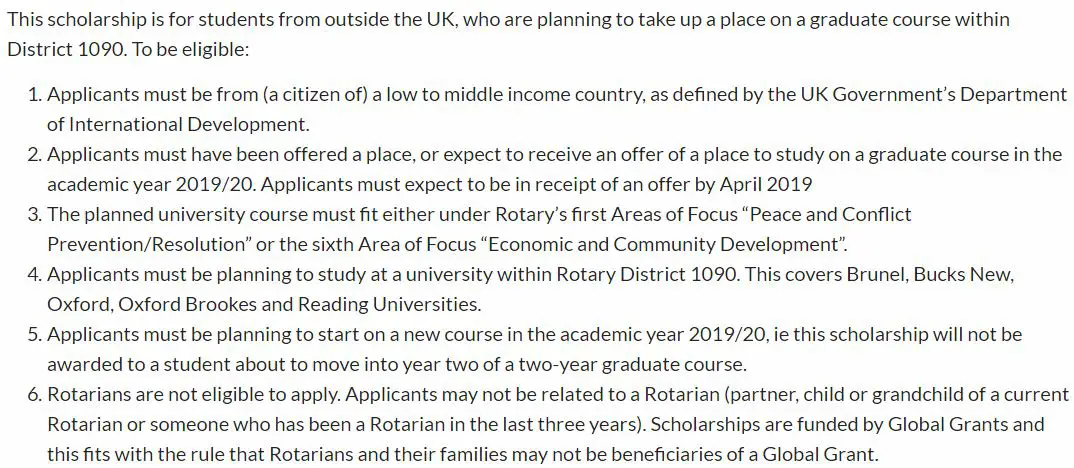 How to Apply
How to apply: Interested applicants must go through the given link to apply for the free study program.
Supporting Documents: You do not need to submit any supporting documents for the award program.
Admission Requirements: In order to apply for education, all interested applicants must be enrolled at a university in the United States.
Language Requirement: English language requirements for candidates who do not speak English as their first language.
Benefit: Available amount for Rotary Foundation Graduate grant is USD 30,000.