­The Faculty of Biology and Medicine, University of Lausanne is offering Ph.D. Fellowships in Life Sciences starting May 2019. These are available for pursuing Ph.D. program.
These fellowships are open to talented and motivated candidates who have or will have obtained Masters in Switzerland or abroad.
Award

Application Process

Clarity of Information
Summary
Amazing choice for International students to study in Switzerland.
The University of Lausanne in Lausanne, Switzerland was founded in 1537 as a school of theology, before being made a university in 1890. Today about 13,500 students and 2,200 researchers study and work at the university.
Why at the University of Lausanne? The University has a wide curriculum including exchange programs with world-renowned universities. Approximately 1,500 international students attend the university.
Brief Description
University or Organization: University of Lausanne
Department: NA
Course Level: Ph.D. program
Award: Varies
Access Mode: Online
Number of Awards: NA
Nationality: Swiss and international students
The program can be taken in Switzerland
Application Deadline: September 2019 for 2020 intake
Eligibility 
Applicants must meet the following criteria:
Talented and motivated candidates who have or will have obtained Masters in Switzerland or abroad or equivalent degrees in an appropriate field before Autumn 2019 are invited to submit their application for Ph.D. fellowships before October 12, 2018.
Swiss and international students are eligible to apply.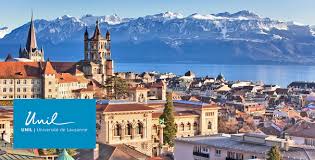 How to Apply
How to Apply: Step 1: Find a host lab
You have first to choose at least one laboratory (three max.), please browse "Host Labs",
Contact thesis directors of interest from the Lausanne University and if they appreciate your CV, ask them to send you a confirmation by email that he/she agrees to act as your potential thesis director,
You should mention his/her name in your application form.
STEP 3: Prepare your file
Prepare the following documents:
A complete Curriculum Vitae
1 passport size photograph.Copy of your passport or identity card. Copies of your high school diplomaE. A certified copy of the university diploma(s) and the diploma supplement, your scores (transcripts), three referees from.
D or E: Copies of certified transcripts, listing courses and grades: These transcripts should be translated (if not originally in English) in French, German, Italian or English.
The copy(ies) of the confirmation e-mail(s)sent by the potential(s) thesis director(s)
(see STEP 1).
STEP 4: You are now ready to fill in the "Online Form"!
Merge in a PDF file the following documents in this order: Application form, A, B, C, D, E  and G. Name of the file Name_First Name_Birth Date.pdf (e.g. pdf) Max: 20 Mo (you can zip the document).
Advice: To merge PDF documents together, you can use this online platform, the Adobe Acrobat XI Pro software or any other software or platform you may find useful. Also, to transform jpeg documents in PDF, you can use this online platform, a PDF printer or any other method you may find useful.
Language Requirements: Applicants whose first language is not English are usually required to provide evidence of proficiency in English at the higher level required by the University.
Search here for more PhD scholarships in Switzerland!